RailUSA Rebrands
03/01/2023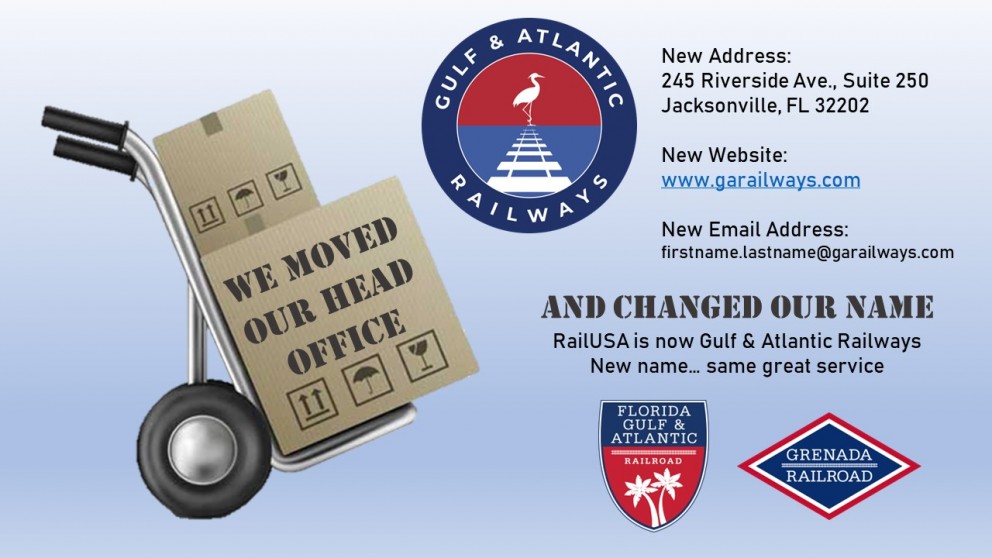 March 1, 2023 To: Our valued customers and vendors Subject: Rebranding of RailUSA to Gulf & Atlantic Railways We are thrilled to share that our holding company has a new name, logo, and corporate office location! Our company, formerly known as RailUSA, is now Gulf & Atlantic Railways. Effective today our corporate office has relocated from Boca Raton to Jacksonville, FL.
The new address is: 245 Riverside Avenue, Suite 250, Jacksonville, FL 32202 In addition, our website and company email addresses have been updated. - Our new website is: GARailways.com - Our new email addresses will follow this format: firstname.lastname@GARailways.com (see attached chart for General Inboxes) Rest assured we will take measures to prevent any disruptions during this process.
It is important to note that these changes will not impact our operations at Grenada Railroad (GRYR) or Florida Gulf & Atlantic Railroad (FGA). As a valued partner, we appreciate your trust, business, and support.
We are excited to see what lies ahead. Should you have questions, please reach out to the following: Billing questions: Nicole Ryan (AP@GARailways.com or 904-914-1136) or Michelle Curtright (AR@GARailways.com or 561-448-2050 ext. 1020). All other topics: Cassie Dull (Cassie.Dull@GARailways.com or 863-604-7103) Sincerely, Ryan Ratledge CEO, Gulf & Atlantic Railway