Sitting at the heart of the Greater Grenada Partnership, Grenada, Mississippi is perfectly positioned for world-class performance, in a strategic location just a half-day drive from markets like Atlanta, New Orleans and Dallas, and with logistics that facilitate low-cost global and domestic access. Our flourishing manufacturing sector is supported by the success of leading industries, targeted workforce development, and a workforce primed and trained to deliver.
The Power of Partnership
Eight counties allied and linked in a dynamic family of communities, the Greater Grenada Partnership offers comprehensive strength not merely in impressive numbers—a resident workforce in excess of 250,000—but also in a powerful depth of commitment. Working together, succeeding together, we are able to provide a wealth of assets and advantages to comprehensively answer your needs and all in a serenely sustainable environment.
Together the Greater Grenada Partnership is forging a greater future and expanding horizons across communities, across sectors. We don't just pull for your success. We pull together to empower it. Join us today.
Latest News & Announcements
Featured Property
500,000 SQ FT Pad_Build Ready Site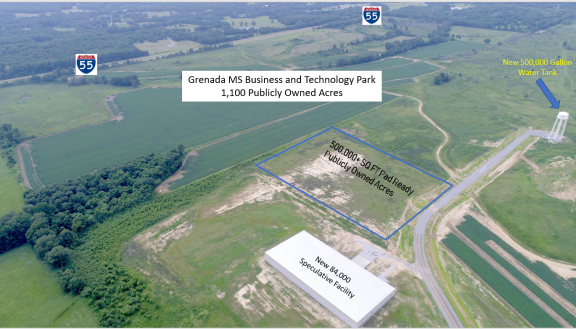 Location: 505 American Way, Grenada, MS 38901
Acreage: 1,175.00 acres
Zoning Type: Industrial
Contact:

.(JavaScript must be enabled to view this email address)


Read More