$6.22 Million Grant for Grenada Railroad
10/06/2020
https://www.wicker.senate.gov/public/index.cfm/press-releases?ID=9A72D4D6-458A-430C-B9B9-216D138D2CF8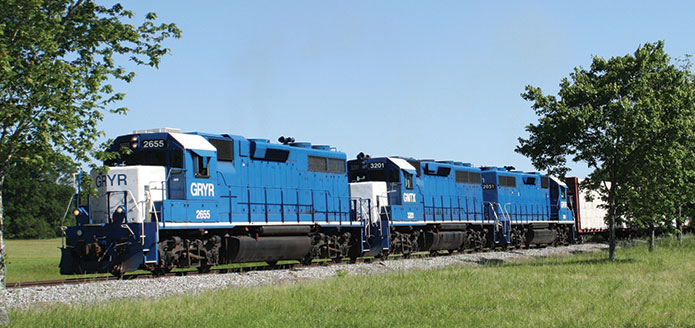 WASHINGTON – U.S. Senators Roger Wicker, R-Miss., and Cindy Hyde-Smith, R-Miss., today announced the award of a $6,221,020 grant to Grenada Railroad, LLC., to complete the final phase of a project to refurbish a rail line between Canton, Miss., and Memphis, Tenn.
Wicker and Hyde-Smith, strong supporters of the Grenada rail line, wrote letters of support for this grant, which will focus on work on northern segments of the line. Improvements to a 90-mile segment between Canton and Grenada have already been completed.
"This grant is a major step forward for Mississippi," Wicker said. "After years of neglect, the Grenada Railroad will once again provide a strong rail link between our state's centers of commerce and the rest of the U.S. I was glad to support this project, which I expect will promote economic development, create jobs, and improve safety for our residents."
"This is more good news for the revitalization of a rail line that faced extinction not too long ago. Federal grant funds, combined with nonfederal resources, will support additional safety and infrastructure improvements to the Grenada Railroad. This extensive work will allow the rail line to continue boosting economic vitality across the region," Hyde-Smith said.
The project will rehabilitate the remaining segment of the rail line from Grenada to Memphis, including upgrading 25 bridges, replacing 88 miles of railroad ties, installing cross ties in 84 curves, and improving 11 bridges and track conditions on the Water Valley Spur Line. This project would also repair three tracks in the Durant rail yard and construct a locomotive pit for employees working under the locomotives. Once complete, the project will restore full speed service on the line, improving safety, transit times, and congestion issues that arise from reduced speeds.
Grenada Railroad is providing a $4.97 million match for the project, which is expected to cost a total of $12.44 million. The grant is being awarded by the U.S. Department of Transportation as part of the Fiscal Year 2020 Consolidated Rail Infrastructure and Safety Improvements (CRISI) grant program.
Today's grant announcement brings the total level of federal funding for the Grenada rail line to $13.68 million, following a $7.46 million INFRA grant announced by Wicker and U.S. Senator Thad Cochran in 2017 to rehabilitate a 90-mile stretch of track between Grenada and Canton.