Grenada's First Bio-Fuel Energy Project
10/12/2023
https://www.grenadastar.com/business-local-content-top-stories/project-fuels-growth-ggp-highland-grenada-team-bio-fuel-energy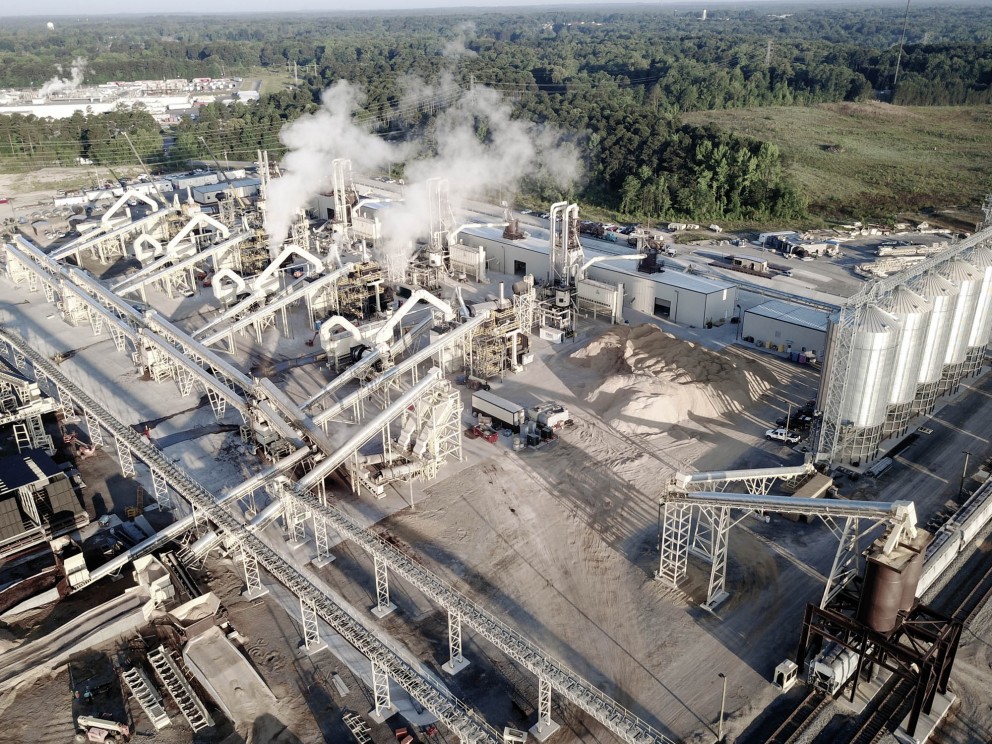 Greater Grenada Partnership and Highland Grenada LLC Unite to Pioneer Grenada's First Bio-Fuel Energy Project.
[GRENADA, Mississippi] – [10/12/2023] – The Greater Grenada Partnership is proud to announce its strategic partnership with Highland Grenada LLC, an affiliate of Highlands Pellets LLC, marking an important step to significantly grow sustainable manufacturing and economic development in the Grenada region. Highland Grenada LLC has set its sights on Grenada, Mississippi, with the acquisition of the former GP OSB site—an impressive 144-acre expanse that will soon become Grenada's inaugural green energy project.
"The arrival of Highland Grenada LLC exemplifies our unwavering dedication to forging a sustainable manufacturing future," stated Matthew Harrison, CEO of the Greater Grenada Partnership, "For the last 22 months our team has been working to reach this important milestone and we have finally arrived."
This undertaking is poised to significantly advance sustainable manufacturing in the region, as Highland Grenada LLC embarks on the production of renewable fuel pellets for the global energy market. Highland Grenada, a part of the Highland Group renowned for its expertise in sustainably sourced biomass, is poised to lead this initiative as it introduces cleaner and greener fuel alternatives for energy markets in Europe and Asia.
The former GP OSB site, now under the ownership of Highland Grenada LLC, will undergo a transformation that signifies Grenada's commitment to environmental stewardship and economic advancement. This ambitious project aligns perfectly with Grenada's mission to diversify its economy while making a significant impact on global sustainability efforts.
This project was the direct result of visionary strategic planning. Micheal Lott, president of the Grenada Board of Supervisors recalled, "We chose to invest in the abandoned Georgia Pacific site because we believed it held the power to transform our forestry community, and with Highlands' investments, that transformation has become a reality."
Darrell Robinson, echoed that sentiment, ""Forestry manufacturing is part of the lifeblood of our rural community, shaping our economy, providing jobs, and fostering a sustainable future for generations to come. As a board we have always supported industrial growth."
The Highland Group, based in Arkansas, has a stellar track record of responsibly sourcing wood fiber from sources such as forest thinnings and residual waste wood provided by local sawmills. The harvesting of thinnings—smaller trees that are removed to prevent overcrowding and improve forest health—is an important component for long-term forest fire prevention and healthy forests. This practice not only aids in the long-term health and vitality of the forests, but also contributes to the local economy by creating jobs and supporting the wider forestry economy.
Beyond environmental conservation, Highland actively engages with local communities by creating employment opportunities and sourcing quality pulpwood from local landowners. This commitment not only supports the local economy by direct spending and employment, but also supports the wider forestry economy, including loggers, truckers, rail workers, and landowners, thereby fostering economic stability within the region.
"Forest mill operations serve as a catalyst for economic growth, generating a multitude of direct and indirect jobs that breathe life into the local economy. The impact that this new facility will have is almost beyond our measurements. It truly is a once-in-a-lifetime opportunity," stated Chad Bridges.
Transportation is a crucial aspect of Highland's commitment to sustainability. The wood pellets produced will be efficiently transported by train to nearby rail spurs, rivers, and ports. This optimized transport network not only reduces emissions but also facilitates the timely delivery of high-specification pellets to global markets, positioning Grenada as a responsible and dependable supplier of fuel for renewable energy.
Cassie Dull, Chief Commercial Officer Gulf & Atlantic Railways, parent company of Grenada Railroad says that Grenada Railroad is ready to serve as the site becomes active, "First of all congratulations to Grenada County and Highland Grenada on such an incredible achievement. We are thrilled that Grenada Railroad will serve the new location and look forward to being a part of this transformative project."
Chad Gray is excited about all of the potential opportunities that the new suppliers will produce, "Grenada was already a business hub due to other industry expansions, but this new opportunity is creating a massive daily traffic count, which will spur more opportunities for our small businesses and residential areas."
The Greater Grenada Partnership and Highland Grenada LLC are united in their dedication to propelling Grenada to new heights in economic development and environmental responsibility. This collaborative effort will not only create jobs but also contribute to a more sustainable future for Grenada and the world.
Jeff Vanderpool, Group Executive Vice President for Highland Pellets LLC, echoed this commitment: "We began exploring Mississippi more than two years ago because of its abundant supply of sustainable fiber. As we started to narrow the focus of potential sites it became obvious that north central Mississippi is where we needed to be. Throughout this journey we have worked very closely with Matthew Harrison and the Greater Grenada Partnership to ensure that all critical elements of our business model were covered and that there was commitment from all key stakeholders to a long-term relationship. It has been a long journey, but we are very excited to finally plant our flag Grenada and look forward to being a part of this wonderful community."
Thomas Reilley, Chairman of Highland LLC, the parent company of both Highland Pellets LLC and Highland Grenada LLC said: "The support of the Greater Grenada Partnership has been a vital piece of the puzzle for us as we expand into Mississippi. Building a pellet production facility requires an extraordinary commitment of time and resources from our team as well as strong support from local stakeholders. We look forward to continuing to work closely with Matthew and the Greater Grenada Partnership team as we move to the next stages of bringing this project to reality."
As design, engineering and site preparation for this visionary project takes shape in the coming months, it symbolizes the unwavering commitment to innovation, sustainability, and progress that define the Greater Grenada Partnership and Highland Grenada LLC.
Harrison stated, "This is just the beginning, and we have more exciting news coming. The growth of Grenada has become a daily reality. I am thankful of the visionary leadership of the County, our various boards, my phenomenal team and our community partners that allow us to be successful."
For media inquiries and additional information, please contact:
[Matthew Harrison]
[Greater Grenada Partnership]
[matthew@grenadameansbusiness.com]
[662-229-9502]
About the Greater Grenada Partnership:
The Greater Grenada Partnership is a leading economic development organization dedicated to promoting growth and prosperity in the Grenada region. Through strategic partnerships and visionary initiatives, we work to create a brighter future for our community and the global stage.
About Highland Grenada LLC:
Highland Grenada LLC is an affiliate of Highlands Pellets LLC, a pioneering company in the sustainable biomass industry. With a strong commitment to environmentally responsible practices, the Highland Group produces high-quality wood pellets to serve as a cleaner, renewable energy source for industrial markets worldwide.