After breaking the mold, Grenada, Mississippi creates a new framework for growth.
07/25/2023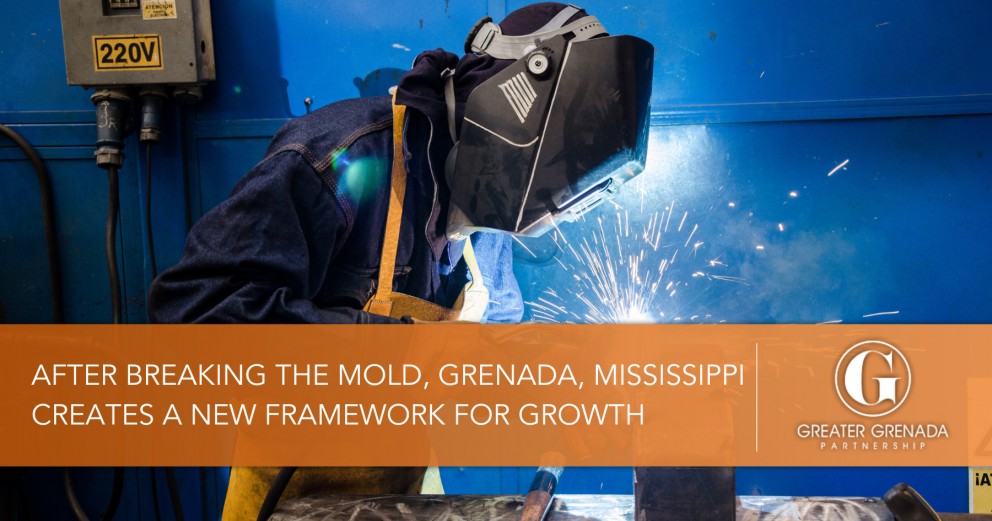 One thing is certain: Grenada, Mississippi broke the mold.

In barely more than three years, this small city of roughly 13,000, in a county with a total population of a little more than 21,600, achieved what might have seemed impossible: Attracting two new manufacturing projects and facilitating 11 expansions of existing companies, in the process bringing $810 million in private investment while creating 3,665 committed jobs for an economic impact of $1 billion.
Grenada's employment numbers increased 10% with one announcement alone: Milwaukee Tool's two-phased manufacturing project has begun with a mammoth 563,000-square-foot manufacturing facility to produce the company's signature SAWZALL blades, with plans to expand to over 1.3 million square feet, eventually creating 1,200 jobs. Also in 2022, ICE Industries announced a $4 million expansion of its stamping, welding and painting center, creating more than 120 jobs.
Happily ever after ending? Actually, according to Matthew Harrison, CEO of the Greater Grenada Partnership, the new industry plans are only the beginning.
"Now that we've brought in the jobs, we have lots more work to do," he says. "Meeting the challenge of intelligent growth is phase two, and it's just as critical as the first phase of investment attraction."
And so after breaking the mold in attracting jobs, the city is now creating a new template for other regions to follow. As the great migration of populations and businesses continues across America, Grenada is providing a model for intelligent growth.
A dynamic framework for quality growth and development.
Working in collaboration, Harrison and the region's economic development partners are addressing growth on four major fronts: Strengthening the educational pipeline, developing the workforce, developing community assets and improving infrastructure. In other words, ensuring that skilled people are living, working and thriving in Grenada, and business is flourishing with the support it needs. And guiding all those efforts is the multi-faceted "Build Better Together 2040 Plan," developed over the course of nearly a year in conjunction with Kendig Keast Collaborative of Sugar Land, Texas.
"You can go back to one of the original industrious Americans, Ben Franklin, who said 'by failing to prepare, you are preparing to fail,'" Harrison says. "Grenada is approaching all of our challenges not only with determination but also with deliberation."
Building out the talent pipeline.
Now that Grenada has attracted skilled manufacturing jobs, one critical task is to assure those skills. And Harrison sees the right solution in Grenada High School's existing "middle college" program and the envisioned Grenada Education/Workforce Complex, a new facility combining GHS and the local Holmes Community College facility in a single campus.
Middle College already allows high school juniors to take HCC courses toward an associate's degree or national certification, enabling them to graduate ready to enter the workforce. "One campus makes that goal more accessible," Harrison says. "Shared resources and shared facilities allow us to create real impact. The combined campus will be home to 4,000 students."
Another key element in the educational pipeline is the University of Mississippi Medical Center-Grenada. A community hospital, UMMC-Grenada is a satellite facility of the University of Mississippi Medical Center, the state's only academic medical center, which is located in Jackson. Currently, Jackson students commute daily to complete a rural medicine rotation at UMMC-Grenada, but soon a multi-million dollar facilities grant will provide quarters for the students to stay onsite during their rotation, thus giving them more time and energy to learn rural medicine.
"We see this both as an improvement of an outstanding community asset and as a recruitment opportunity," notes Harrison. "Giving medical students more exposure and a better understanding of how rewarding practicing rural medicine can be."
Developing the community.
Attracting more workers is another important element, and that means more community development, like the city's new $14 million sports plex. The first phase of the project is already complete, drawing crowds for popular youth sports and adding dining revenue for the city. In the city's vision for the 70-acre complex, it will be part of a 100-acre mixed-use development, to include retail, childcare, medical facilities and apartment housing.
In fact, new living spaces are already going up: Westlake, an $8-million, 32-unit upscale apartment complex, broke ground in early spring 2023. Also on the horizon are housing developments like the 87-lot Borden Estates as well as housing and recreational development around Grenada Lake. The 90,000-acre lake, ringed with 148 miles of shoreline, was built in the 1950s for flood control, but today it is one of the region's top visitor attractions and home to Hugh White State Park. And on the drawing board now are plans for the construction of 3,000 additional housing units in the next few years.
Another critical expansion is occurring at Camp McCain, the state-operated training center located just 10 miles from Grenada, where over 60,000 trainees from units of all military branches as well as non-DoD entities arrive annually to train in support of national defense and domestic operations.
Harrison views retiring McCain personnel as well as the Camp's existing part-time personnel as a valuable human resource the city can tap for reliable skills, and already he's aiming even wider.
"We're starting with job fairs at Camp McCain," he says, "but we see Mississippi's entire separating military workforce as a strategic target for recruitment. We're developing the quality of life that's ideal, and we've got the jobs to match their skillset."
Building out infrastructure
Harrison believes that Grenada's fast-moving transit infrastructure played an important role in attracting industry to the city. Industrial operations have access to I-55, which extends all the way to Chicago, while air service is available through a local municipal airport as well as two more regional airports and two international airports within 100 miles. And an existing rail line made newly relevant is also a key driver of economic growth.
Grenada leadership helped spur the revival of the historic Illinois Central rail line, bringing it back from extinction as a rails-to-trail project. Today the Grenada Railroad operates 228 miles of track, running north/south along I-55 and extending to Memphis where it provides access to six Class I carriers. And in 2022, the Railroad received 286,000-lb. gross weight on rail (GWR) certification.
Another $100 million improvement project is also taking shape for Mississippi Highway 7, which will be widened to provide four-lane access for 80 miles connecting Grenada to the cities of Greenwood and Oxford. "Greater Grenada is ready for more people and more goods in transit," Harrison says.
From infrastructure to workforce attraction to training to planning, Grenada is creating a new model to accommodate and facilitate economic growth. "We didn't wait for jobs and growth to come to us," Harrison says. "And now we're not waiting to prepare."