Transportation
Greater speed. Lower costs.
Highway, rail, air and port: In a central location that puts major domestic markets within a half-day drive, Greater Grenada's omni-modal options ramp up speed and lower costs, so that your operation moves products and materials rapidly even as you move the needle toward greater profitability.
Highway
Greater Grenada lets you hit the road with omnidirectional reach. Make the most of your horsepower with swift access to I-55, the nation's workhorse north-south artery, providing a high-speed, high-economy route to markets including Chicago, St. Louis, New Orleans and Memphis. Running in close parallel to I-55, U.S. Route 51 extends 1,200+ miles from the Gulf Coast to the Great Lakes region. Running from coastal Georgia to southern New Mexico, U.S. Route 82 provides east-west reach. Add in more than a dozen leading motor freight and contract carriers in Grenada alone, and it's clear that Greater Grenada is driven to deliver.
Rail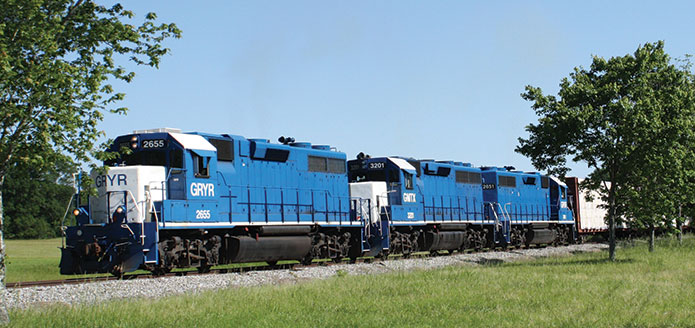 Grenada Railroad combines the customization and cost advantages of superior short line service with the comprehensive coverage of Class I carriers. Stretching 180 miles between Canton, MS and the Memphis rail gateway, the interchanges provided in these locations allow Grenada Railroad to connect your business to all major cities in the continental United States, Canada, and Mexico via the nation's top 6 Class 1 carriers: CN, CSX, BNSF, UP, KCS and NS. The access and service provided give your business a competitive advantage and allow you to keep your supply chain on track and under budget with ease.
Port
Just 73 miles from Grenada, the intermodal all-weather Port of Rosedale opens unmatched access to the lower Mississippi River and the Arkansas River navigation system. Barge shipping is today's most sustainable, economical solution, made even more cost-effective by Port of Rosedale's flexibility, fast turns and competitive pricing. Just 110 miles away, the International Port of Memphis, also on the Mississippi River, offers all-weather, ice-free access to St. Louis as well as New Orleans where strategic deep-water shipping is available. Other deep-water global ports easily accessed include those at Mobile and Gulfport, both within a 5-hour drive.
Air
Executives travel by air with ease in the Greater Grenada region, with the choice of nearly a dozen municipal airports. That includes the superbly equipped Grenada Municipal Airport, where a 7,000-ft. runway and instrument landing system (ILS) assure reliable service in all weather conditions and where equipment and flawless maintenance have made the airport the go-to choice for Camp McCain National Guard Post and Camp Shelby Military Post. International travel options include the Jackson-Medgar Wiley Evers International Airport less than two hours from Grenada, and less than 1.5 hours away, the Memphis International Airport (MEM). In addition to offering commercial service, MEM is the largest cargo airport in North America and the second busiest in the world, thanks to the significant presence of FedEx and UPS.
---